Ring Sizing in San Diego
Does your ring have to be resized?
When you've purchased a ring for a loved one, you want to know it fits before you give it to them. This is especially important if it's an engagement ring and you want the perfect moment. At Fast-Fix, we offer sizing and resizing for any rings that you may have. If you know the size or bring in the recipient of the jewelry, we can fit the ring to the desired size. This service is also ideal in the case that your old rings no longer fit.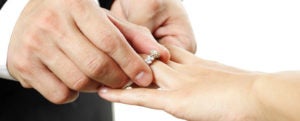 We offer sizing services for rings made of:
Platinum
Silver
White Gold
Yellow Gold
Rose Gold
Stainless Steel
Our expert jewelers have unique ring sizing techniques to ensure that your rings will fit perfectly. This service is available for virtually any type of ring. Please call us to discuss the type of ring you would like to have sized. Ring sizing in ONE HOUR! FREE estimates on custom jewelry designs!
Why Choose Us?
Laser Engraving - Small or Large item
High end watch repair is done on-site
Master Jeweler on-site
Master jeweler has over 20 years' experience
Eyewear Repair - Laser Titanium and Laser Welder